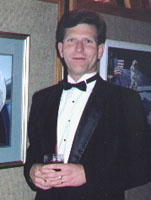 About the Artist
Michael Backus has been a freelance illustrator since graduating from the Art Center College of
Design in 1979. Initially an Entertainment industry artist specializing in portraiture, Michael
worked for Warner Bros, Universal Studios, 20th Century Fox, Disney, CBS, NBC, ABC, MCA
and many video packaging companies. The search for saner work schedules and a broader client
base took Michael into advertising in the mid-'80s.
Michael's Advertising clients have included American Honda, Toyota ,Subaru and Suzuki, Adolph
Coors Co., Wendy's, McDonald's, Tokyo Disneyland, Phillip Morris, Seagrams,Princess Cruises,
California Raisins, Hertz, United Airlines, NorthWest Airlines, USAir,The Sharper Image, Unocal
Oil, Shell Oil, Nintendo, Johnson & Johnson Japan Tobacco Co. and General Mills.
Michael began illustrating on computer in 1992, initially using Photoshop 2.5 and Painter 3 to
imitate familiar art materials. Currently, Michael uses Photoshop 5.5, Painter 6, Ray Dream Studio 5,
Illustrator 8, Bryce 3D, Poser 3D, Painter 3D, Flash 5, Fireworks, Dreamweaver and Apple's QTVR
Authoring Studio. All artwork and programming for this website were created solely by the artist.
From 1995 until 1998 Michael created 3D Computer Game environments and animations for
Dynamix, Inc., a division of Sierra Corporation. Starting in 1996 these same skills were applied to
Web Design and construction.
In 1999 Michael founded Precision Scan a service bureau dedicated to high end digital imput and
output. Please click on the above link for more detailed information.
Michael's Fine Art is available as archival giclee' prints created by the artist in his studio. He also
accepts comissioned portraits (humans only, please) as well as comissions of automobiles, airplanes,
motorcycles and buildings. A deposit is required for comissioned work. Please write or call for more
information.
You can reach Michael by e-mail at michael@backusstudio.com

All Artwork © Copyright: Backus Studio 2003. All Rights Reserved